Chronogram Magazine
December 1, 2013
By Hillary Harvey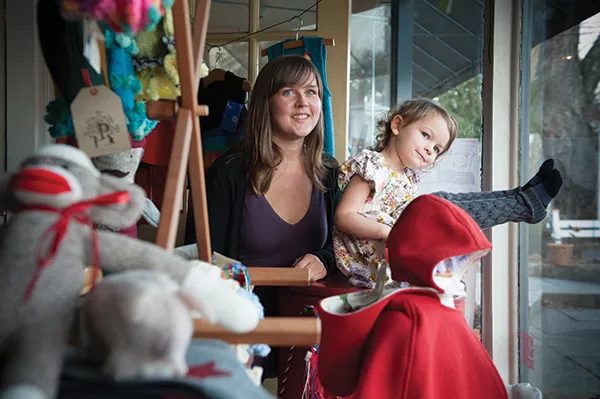 Photo byJennifer May
Jessica Walsh and her daughter Pearl at Illuminated Baby in Woodstock.
Marybeth Cale is an early riser. While her family sleeps, she flips on the light in her home office and launches into answering e-mails, managing social media campaigns, and developing a list of priorities for the day while sipping a steamy cup of coffee. Cale is the sole proprietor of Cale Communications, a public relations and communications firm in Rhinebeck. She's a natural writer whose effervescent personality even bursts through e-mails. For her, the work is about helping her clients to share their stories in ways that will resonate.

Once her two boys wake up, Cale spends breakfast with them. They walk to school together and then she heads to her office in the village. After a few hours of writing press releases and planning client events and speaking engagements, Cale rewards herself with some time for physical activity, which makes her more creative and productive for the rest of the day. After meetings and calls to journalists, Cale heads over to the school to pick up her boys. Afterschool time is reserved solely for karate, homework, and playtime with them. Then there's dinner, and Cale visits with her husband. If she's on deadline, she works a couple more hours in her home office before going to bed. "I try to maintain a routine which serves the needs of everyone in my life—my children, my husband, my clients, my friends," Cale says, "and, of course, with some time in the day for me, which is critical to feeling healthy and joyful."

This is the work-life balance in action, Hudson Valley style. And Cale is not alone. When Arlene Deahl was eight months' pregnant, the online tobacconist whose warehouse she managed moved out of state, and her job search for other managerial positions in the area didn't pan out. But all that was fortuitous. "After you have the baby, you never want to leave them," Deahl says. Like so many mompreneurs, those entrepreneurial spirits who balance motherhood and business, Deahl found that her retreat to home-life actually opened a door to her own dreams. Being home with her baby was the first time she was ever without work, but she needed the income. So she turned to what she had already been doing.

For the past 12 years, Deahl and her mother-in-law have been mass baking holiday cookies. As more people were added to the rounds, Deahl got up to baking 1,500 cookies in three days. "It was the passion that I never had time for," she says. So Deahl took a course on running a home baking business, and Banana Moon Baking Company was born.

Focusing on quality, often local, ingredients and freshness without preservatives, Deahl offers people the opportunity to eat homemade without having to make it themselves. On heavy teething days, Deahl might bake at 11pm. With calls to customers and dough mixing fit around naps and toddler classes, Deahl is able to create her own schedule. Deahl's mother-in-law has moved back to Kentucky now, but she gets regular cookie care packages and baby artwork.